Well well blogger it's been a while hasn't it? Anyways I'm not going to bother with a montage of my life since I last blogged because well it's been.............. emotional haha no, no its not but hey made my year seem interesting for a moment then.
So DOWNLOAD2010. Wow! Last year was good but Jesus H Christ this year's headliner's of AC/DC, Rage against the machine and Aerosmith just blew the previous year out of the water with the biggest torpedo known to the god's of rock \m/.
So lets get this straight I would of paid the £190 just to see AC/DC and even if they hadn't of played the £190 is worth it just for the camping and having a blowout with a bunch of mate's. The fact AD/DC was there and that they "Don't do festival's" say's Andy the organizer of Download meant only one thing. Giant piss up with the music of god's, stood in a field with 200,000 people (and I was near the front) rocking out to Thuderstruck and T.N.T was one of the best memory's I'll ever have. Look back over the sea of people made a tingle go down my back thinking what it must be like to be stood on that stage with Angus shredding his axe and melting our faces with his 15min solo. Walking away after a fireworks display ended 'For those about to rock' everyone was asking if the rest of Download could match up to them.
They did match up by the way. Rage blew my socks off and that would of been a hard job as i was stood in them at the time and even after nearly killing 2 people at the very front they put on a show no one else in the world could pull off. Tom Morrello is a god among axemen and proved it on that stage. even playing riff's with just the jack lead and using feedback to make a noise that could turn you inside out.
The rest of Download was fantastic Slash banged out G'n'R song's and Billy Idol gave us all a bit of an 80's feel, then Motorhead turned it up to 11 and blew my eardrums out with Lemmy's base and a 10min drum solo made my mouth hit the floor!
The camping is a blur because of all the beer but I know I had a fantastic time playing drinking game's with a Luchador mask on.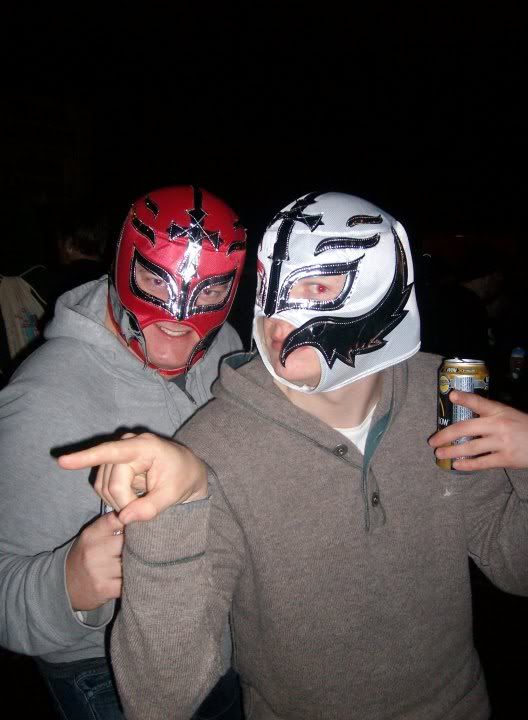 Ok so I'm bored now so I'm going to sign off. see you soon blogger's